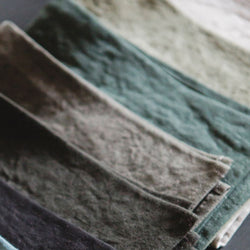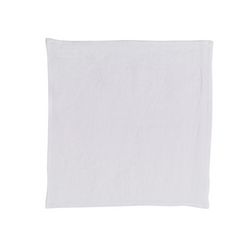 Set your table in linen that's sure to impress with our Réunir Collection. Linen is famous for its absorbency and durability, making it the best companion for dining. Our fine linen napkins are proudly made from 100% Belgian Linen™ and certified authentic for superior quality. 
Our Linen Napkins in a nutshell:
100% Belgian Linen
Made ethically and sustainably
40cm x 40cm
Classic hem
Available in timeless shades
Sold separately. Save 10% automatically with 6 or more.
Designed in Melbourne, Australia and made in Belgium.
In the world of textiles, Belgian Linen is one of the most prized. It's uniquely soft, thanks to the highly skilled artisans and traditional craftsmanship. This high quality linen is internationally protected, the same way that Champagne is, and for good reason too.
All linen comes from flax, but most linen available today is made in China or India from European Flax. These are labelled as 'European Flax Linen' or 'French Flax Linen' which means the flax was grown and harvested in Europe, then shipped off far and wide to be transformed into a textile. This is where everything begins to change and quality is compromised. Linen made elsewhere fails in quality compared to Belgian Linen.
Our Belgian linen is proudly 100% made in Europe and carries the Belgian Linen  and Masters of Linen certification. 
Our flax is grown in the optimal growing climate of Belgium, France and The Netherlands. It's then woven into linen, sewn and hand finished in Belgium with over 150 years of experience for uncompromising quality.
By choosing Belgian Linen, you are choosing the finest quality linen in the world.